KT AKELA™ Custom S (Suppressor/Compensator) holster:
If you have a suppressor or a compensator, this holster is for you. Available with or without a weapon light. Secondary over the slide "Pull the dot" snap retention.
Because of the suppressor/compensator, the draw will be a slight push forward and up, instead of the standard direct vertical draw.
The over the slide retention strap will secure your weapon when you're out and about. When the retention strap is open, the holster will still retain your weapon but it will be minimal for a faster draw. The retention strap should only be opened when you're ready to draw and shoot.
Fully compatible with all attachments available for the KT AKELA line of holsters. Includes an extended parallel plate that may help keep the heat away from your leg. Back cant built into the holster so that barrel points safely towards the front and range legal where holsters are allowed.
1.

of your setup with the Suppressor or Compensator attached and your shipping zip code. Also : contact@kt-mech.com

-

(left or right handed)

-

(standard: Black or FDE, or custom color/pattern) For a custom color/pattern, please see our Custom Colors / Patterns page for rates.

- Belt Attachment (Tek-Lok, Paddle, or Drop Plate)

- $106.95 without a weapon light

- $116.95 with a weapon light attached

2.

and current lead times apply. The KT AKELA Custom-S holster is a full custom holster, 50% non-refundable.
Included:
1. (1) Top loading and draw holster with clearance for a Suppressor or Compensator attached with a preset shaped friction retention.
2. (1) Hold down strap.
3. (1) Belt attachment.
4. (1) heat shield.
Here's our email address: contact@kt-mech.com
Thank you, KT mgmt.
KT AKELA™ Custom S - holster operation.

Samples: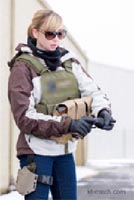 Remember to be safe, all are required to read and practice these Holster Safety rules.