Felt Liner service (holster):

-The Felt Liner will help reduce wear on your handgun's finish. Ideal for handgun's with custom finishes (i.e. Cerakote) or for simply keeping your handgun's long term resale value.

-Bonded with advanced heat and moisture resistant adhesives.

-Ideal for competition and high repetition training.

-The liner will also reduce the holster's acoustic signature (commonly known as the "click") when holstering and drawing your weapon.

-Just add this feature to the shopping cart with your holster order. We can apply it to any holster model.

Notice:

-The Felt Liner will help reduce wear on your handgun's finish but we live in an imperfect world. Some wear may occur over time just like anything else, but the felt liner will help reduce this.

-A periodic check on your equipment should always include a check on the holster's condition and lining. Be sure to read and apply the Holster Safety rules below.

-KT's Felt Lining is permanently bonded and there should be no separation between the felt lining and the plastic. There may be some separation around the edges where they are exposed to dust, dirt, chemicals, abrasives, and/or other foreign objects. As long as the separation is not more than 0.125", this is normal. Make sure to let us know if you have any concerns so that we can assist you.

-The Felt Liner service is non-refundable.

-Available to new holster builds only. Cannot be added to existing holsters.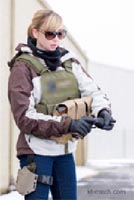 Remember to be safe, all are required to read and practice these Holster Safety rules.