The products and services KT MECH LLC provides to you are subject to the Terms of use. KT MECH LLC reserves the right to update the Terms of use at any time without notice to you. To view the most current version of the Terms of use, simply refresh your web browser while viewing this page. It is implied and understood by you, that you agree to the terms herein unless you state otherwise. If you do not agree to any of the terms of use, please do not make a purchase with KT MECH LLC (kt-mech.com). If you've already made a purchase, please contact us with your intent to return your order within 3 days from the date you receive your order and upon receipt of your return we will gladly give you a full refund, excluding shipping costs and services rendered and/or consumed. These TERMS are subject to change without notice. Please be sure to read every section of the TERMS OF USE.
Do not modify your KT holster or accessories in any way or use hardware/fasteners that are not prescribed by KT MECH LLC. This will Void any Warranty written or implied. Modifications such as heating, cutting, sanding, drilling, reforming, and any other types may permanently damage the holster or accessories. If you need any modifications, contact us 1st and send in your item with a short note, and we can professionally modify the item for you.
Thank you for choosing KT MECH LLC! -- KT MECH LLC, innovative mechanical engineering and designs.
When you purchase Merchandize from KT MECH LLC (kt-mech.com) you agree to assume all risks related to and/or arising from your ownership and use of the Merchandise and agree to indemnify and hold KT MECH LLC (kt-mech.com) harmless from any and all claims brought by any person or entity against KT MECH LLC (kt-mech.com) relating to and/or arising from your ownership and/or use of the Merchandise, and any damages to yourself or any other property related to and/or arising from your ownership and use of the Merchandise.
KT MECH LLC (kt-mech.com) is not responsible for any negligent use or misuse of its products. In no event will KT MECH LLC (kt-mech.com) and/or its partners be liable for any damages and/or injuries, including without limitation direct or indirect, special, incidental, or consequential damages, losses or expenses arising in connection with the use of KT MECH LLC (kt-mech.com) products and Merchandise. If you do not agree to any of the terms of use, please do not make a purchase with KT MECH LLC (kt-mech.com). If you've already made a purchase, please contact us with your intent to return your order within 3 days from the date you receive your order and upon receipt of your return we will gladly give you a full refund, excluding shipping costs and services rendered and/or consumed.
KT MECH LLC (kt-mech.com) does its best to accurately represent all products and services, through photo, video, price, and print. We do make mistakes on occasion and should an issue arise, it is not intentional and your order will be corrected. Thank you for your patience and understanding.
Holster Safety is not an option, it is a requirement for using KT holsters and other products that we offer.
<click on image to view
Our normal lead time is approximately two weeks from order date to shipping date, plus carrier transit times which will depend on your shipping address. If you opted for the Priority Build Request the lead time is 1-3 business days (M-F) from order to shipping. You will receive a shipping notice via email from PayPal when your order is complete and being processed by our shipping department.
KT MECH LLC fully supports our holsters, regardless of how long you've had them. If you have any issues, just let us know and we'd be happy to help. We offer a Lifetime Warranty for all our products. If you have a warranty claim, please let us know via email (contact@kt-mech.com) and send the product back to us. Please be sure to include your "name, shipping address, and email address" in the package for reference.
KT MECH LLC - warranty
16432 N Midland Blvd #105
Nampa ID 83687
Each situation is different and we want to hear from you and we're always happy to help. Most replacements are shipped within 1-5 business days from receiving your returned item(s). We reserve the right to replace or repair the damaged product with a similar or newer updated product if the original is no longer available or offered. Belt loops, fasteners, and/or straps that are not manufactured by KT MECH LLC are not covered by this Lifetime Warranty offer. All KT MECH LLC holsters after 2015 are built with .080" grade Thermoplastic materials or greater. The Lifetime Warranty does not apply to ultra light materials such as .060" grade KYDEX. The Lifetime Warranty is VOID if the product and/or holster is modified beyond its indented purpose such as drilling, milling, cutting, reheating, forming, reforming, Testing & Evaluation (T&E), and any other similar test to failure activities. KT MECH LLC will cover the domestic return shipping only. You can contact us anytime if you have any questions, 24-7 via email: contact@kt-mech.com

Thermoplastic Holsters' primary retention is via friction to keep your gun in. The retention strength is preset before shipping and we can adjust this to your preferred setting. Each person's preferred or perceived retention strength is different. This is because each person's previous experience with holsters (or lack of) will typically determine perceived retention strength. If you're coming from a cowboy shooter holster or leather holster with minimal retention, thermoplastic holsters will feel like it's too strong. If you're a seasoned thermoplastic holster user that's accustomed to a very strong pull weight, you may perceive KT holster's to have not enough retention. For this reason, we offer free adjustments because we do understand that everyone is different.
For those who have limited experience with thermoplastic holsters with friction retention, in addition to keeping your finger straight and off the trigger, you will also need to place your thumb behind the slide when holstering your pistol. Placing your thumb behind the slide when holstering will ensure that your handgun does not go out of battery. This is also explained in the safety notice shipped with your holster, or you can also find the safety notice on any page of our website.
We at KT consider firearms to be tools of the trade. Our target customers are Professionals, hobbyist, Competition shooters, and anyone who is familiar or keen on learning the trade craft. KT holsters are made of hard thermoplastic materials and may mar the finish of your firearm. If you are concerned about your handgun's finish, we do offer a Felt Lining service. The Felt Lining service is for new holsters only. Here's the link for more details: http://www.kt-mech.com/i_lining.html
ALL WEATHER HOLSTER; Gap on the holster, this is necessary for water evacuation.  You may notice that there is a small anchor symbol next to the QR code (some refer to as the logo), this signifies that the holster is Maritime ready.  Gaps are required to allow water to pass through and not accumulate during Maritime operations.  This feature is incorporated to all KT holsters because many of our customers state side and overseas require it.
Easy returns. If you're not happy with your purchase for any reason, don't use it at the range, don't use it for training, don't use it for Testing & Evaluation, just send the item(s) back to us for a refund. Your KT purchase is non-refundable after they've been used for the range, training, T&E, after 30 days from receiving your order, and/or any other activity that puts the product(s) to use.
If you'd like to return the product for any reason at all, just let us know within 3 days (3 day grace period) from the time you receive your order. Please keep in mind that only products are refundable. Services, custom materials that are consumed (i.e. felt liner, fabric wrap, special orders, custom colors, etc...), labor costs, packaging, and shipping costs are non-refundable. The Priority Build request, shipping & handling, and laser engraving services are non-refundable because they are services. Returns past the 3 day notice period are 50% refundable only and is considered a rental fee.
Full Custom holsters are 50% refundable only and have no 3 day grace period. Full Custom holsters' materials are consumed on the build and cannot be reused, for this reason, they are 50% refundable only. Full Custom holster definition - Any holster that has to be modified outside of the standard specifications such as irregular cuts, custom thin materials, custom extra thick materials, or custom engravings (excludes high sight channel, full sweat guard, RMR clearance, or extended barrel clearance requests), etc., as requested by the customer. Duty KT AKELA holster's are also 50% refundable only.
The Colors and Patterns that KT provides are located on the left column of the website. Although the colors are very consistent, they may slightly vary from one sample to another if they come from a different manufacturing batch from our vendors. The Flat Dark Earth (FDE) color is a color match to Magpul's FDE color. Some camouflage and other patterns are a trademark or copyright by their respective owners. All rights reserved.
By submitting photographs and/or other media, the following terms are agreed to: KT MECH LLC will have the unrestricted right and permission to copyright and use, re-use, publish, and republish photographic portraits or pictures of me or my property in which I may be included intact or in part, composite or distorted in character or form, without restriction as to changes or transformations in conjunction with my own or a fictitious name, or reproduction hereof in color or otherwise, made through any and all media now or hereafter known for illustration, art, promotion, advertising, trade, or any other purpose whatsoever. By submitting any photographs I agree to these terms and that I am at least 18 years of age.
Your privacy is important to us. We will not share your private information to anyone, including submitted copies of ID's or other documents pertaining to the discount for Military/Police status. We do not accept payments over the phone or directly via email so that we have no record of your credit card or account information. All sales and payments are done through PayPal because they are currently the most secure way to pay.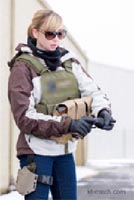 Remember to be safe, all are required to read and practice these Holster Safety rules.