Thumb Break - Optional Feature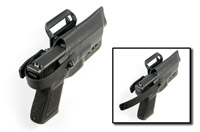 This Thumb Break feature is an available add on to any non-Duty KT Holster. The Thumb Break is a secondary (level 2) physical retention to the holster's primary friction retention. Simply add your holster and this Thumb Break feature to your shopping cart and your holster will be built with the Thumb Break. If you're ordering more than one holster, "Installed Primary" means that we will build the Thumb Break into the holster that's 1st on your items list.
This feature is only available for new holster builds since the holster will have to be specifically modified to accept the hardware. This thumb break strap is not compatible with the Duty KT AKLEA holster which already has a Mechanical hood and thumb switch release level 2 retention.