not available

Weapon Light Models: Compatibility ratings and model availability.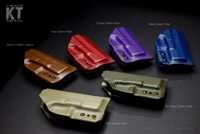 For Custom Colors/Patterns, you can either send us the Thermoplastic material or you can purchase from our available library.

LEO Basket Weave - available in the Custom Color/Patterns page

Sample Gallery
M KT Defender holster (Mechanized adjustable retention)

Free standard belt loops (actual fasteners are Black Oxide steel)

Ajustable for cant (forward or back)

<--adjustable retention area simulation
Notice - Modifications: If you need clearance for high sights, RMR (red dot) or threaded barrel, just add a comment with your holster. We can make these modifications at no extra charge.
Notice - rail key: To ensure a good fit with the holster, be sure to use the correct rail key on your weapon light (if applicable). i.e. Glock's and XD's will use the Weaver size rail keys and S&W and Sig's typically have the Picatinny M1913 rail size.
Each Weapon Light compatible holster will ship with a production notice that states the optimal weapon light rail key configuration. We can provide you with the optimal rail key setup after you place your order if you're not sure.
TLR-1 HL: All TLR-1 holsters are built with the TLR-1 HL variant so that they will fit all standard size TLR-1 bezels.
APLc: We have the APLc available. Please choose the APL from the drop down menu, then add a comment that you have the APLc.
APL Gen3: We have the APL Gen3 available. Please choose the APL from the drop down menu, then add a comment that you have the APL Gen3.
Notice - retention: Even with the adjustable retention set screws, some may still prefer more or less retention strength. Each holster is preset to the most popular retention setting before shipping. We understand that everyone has a different preference so we offer free adjustments that go beyond the adjustable retention's range. Just send us an email to make arrangements.
Notice - pictures: After you place your order, please email us a picture of your setup (weapon light attached and weapon light's rail key) for reference. We require the actual picture of your setup, not an internet stock photo. contact@kt-mech.com