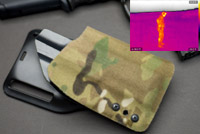 Fabric Wrap service (holster and/or magpouch)
Sample: Multicam Nylon 1000D

Mossey Oak Breakup

Multicam Cotton

Atacs FG

Digi Navy USN

SKULL/BONES Camo

OD Green

Coyote Tan

Blue Denim Wrap

The Blue Denim wrap is a cotton denim material . This is the same material that make up blue jean pants.

Sample: Custom send in fabric

If you have a specific fabric material that you'd like to use as your fabric wrap (i.e. exotic texture, unique design, fabric with logo's), contact us and email us a picture and we'll check it out to see if we can work with it. contact@kt-mech.com
| | | |
| --- | --- | --- |
| | | |
| | Please choose your holster model line... | |
| | | |
| | Custom Colors/Patterns for the KT Gunfighter/Defender holster and magpouch line | |
| | | |
| | Custom Colors/Patterns for the KT AKELA holster and magpouch line | |
| | | |
| | Custom Colors/Patterns for the KT Counter Strike holster | |
-Increased durability of the holster material via the cross grain structure of the fabric, plus to the permanent bonding compound that acts like a resin.
-Reduced acoustic chatter in the event of contact against other objects.
-Practical urban camouflage when using materials similar to what you're wearing such as jeans or khaki.
-Reduced IR signature* depending on your material choice. Please keep in mind that if you're human, you're more than likely to be warm blooded and you should be more worried about your own body heat IR signature. (just a friendly thought)
-Just add this feature to the shopping cart with your holster and/or magpouch order. We can apply it to any model holster or magpouch.
Notice:
-A periodic check on your equipment should always include a check on the holster's condition. Be sure to read and apply the Holster Safety rules below.
-KT's Fabric Wrap is permanently bonded and there should be no separation between the fabric wrap and the plastic. There may be some separation around the edges where they are exposed to dust, dirt, chemicals, abrasives, and/or other foreign objects. As long as the separation is not more than 0.125", this is normal. Make sure to let us know if you have any concerns so that we can assist you.
-Available to new holster builds only. Cannot be added to existing holsters.
*Reduced IR signature
A common question that comes up is "does the fabric wrap reduce IR Signature?" - we addressed this question on our Facebook post here: